Join Us at our Chamber Events: Unlocking Opportunities and Achieving Success Together!
Discover business growth opportunities at Virginia Black Chamber of Commerce Events. Our chamber events are designed to empower, educate, and connect black business owners in Virginia. Network with industry leaders, gain insights from expert speakers and elevate your business to new heights. Stay ahead of the curve with our interactive workshops and seminars that cover trending business topics. Join us and experience the power of community at Virginia Black Chamber of Commerce Events.
Our Chamber Events Focus on Amplifying Your Brand, Sustainability, Small Business Networking and Educational Workshops. We Offer A Variety of Experiences for Entrepreneurs to Inspire them to Actualize Their Vision. Our Events Include Panel Discussions and Informative Workshops On Building an Online Presence, Starting a Business from Scratch, Establishing a Sustainable Workflow or Taking Control of Finances. We Also Host After-Hours Networking Sessions Where You Can Forge Valuable Connections with Other Industry Leaders or Talented Professionals From Different Fields. Regardless Of Your Needs, Our Events Will Help You Get Started On Achieving Your Goals.
Not a member? Click here to Learn more about our Chamber Programs & Initiatives. about our membership opportunities.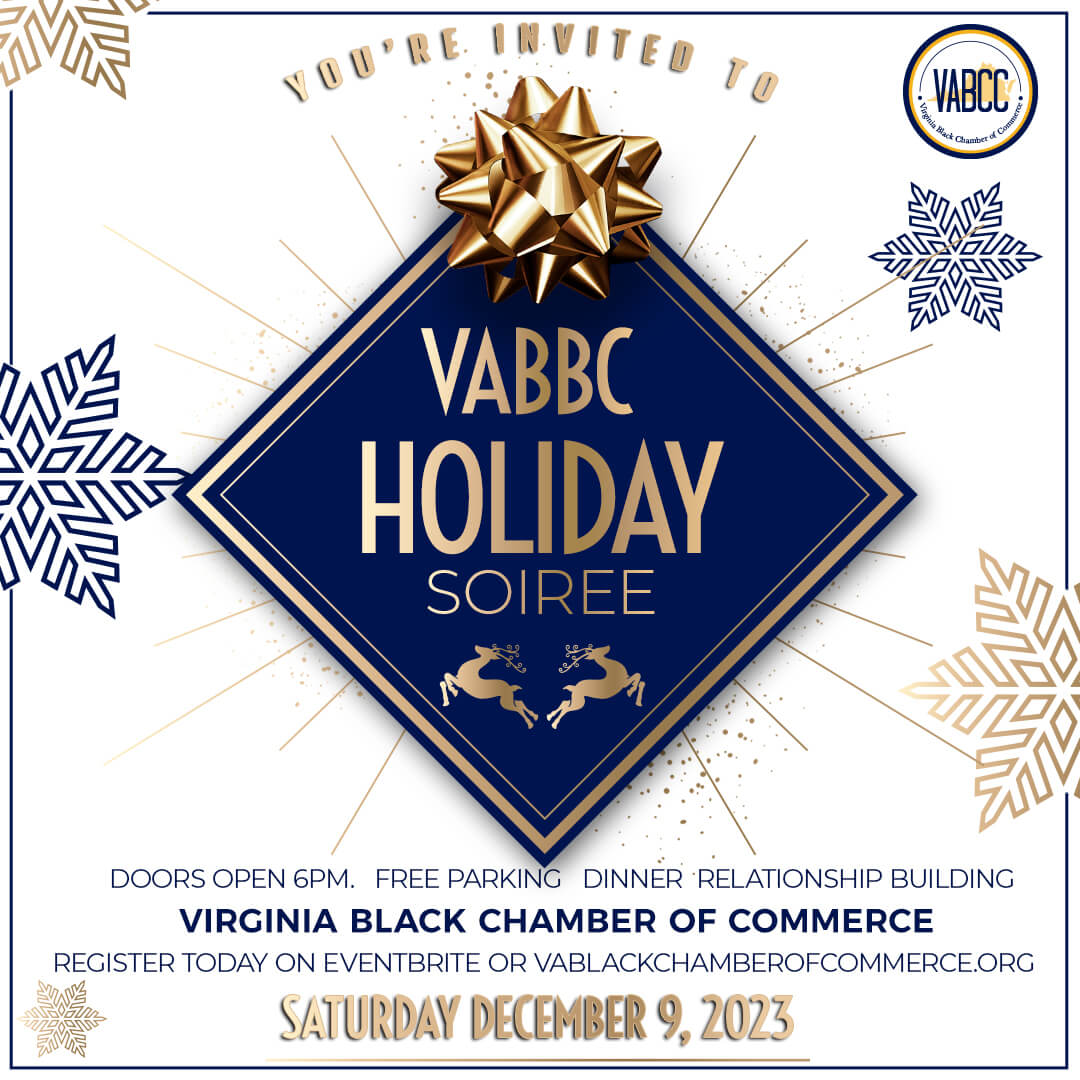 Holiday Connections: Chamber Soiree
Join us at the highly anticipated Virginia Black Chamber of Commerce Holiday Event, a spectacular evening that marries business and pleasure. This event promises an unforgettable experience you don't want to miss.
The evening will commence with a warm welcome, setting the tone for a night of celebration, connection, and collaboration. Our attendees will have the unique opportunity to build meaningful relationships with some of Virginia's leading black business owners.
As the night unfolds, immerse yourself in the vibrant business networking atmosphere. This is your chance to connect with potential partners, clients, and mentors while sharing ideas and insights that could shape the future of your business. We believe in the power of connections, and our holiday event is designed to foster just that.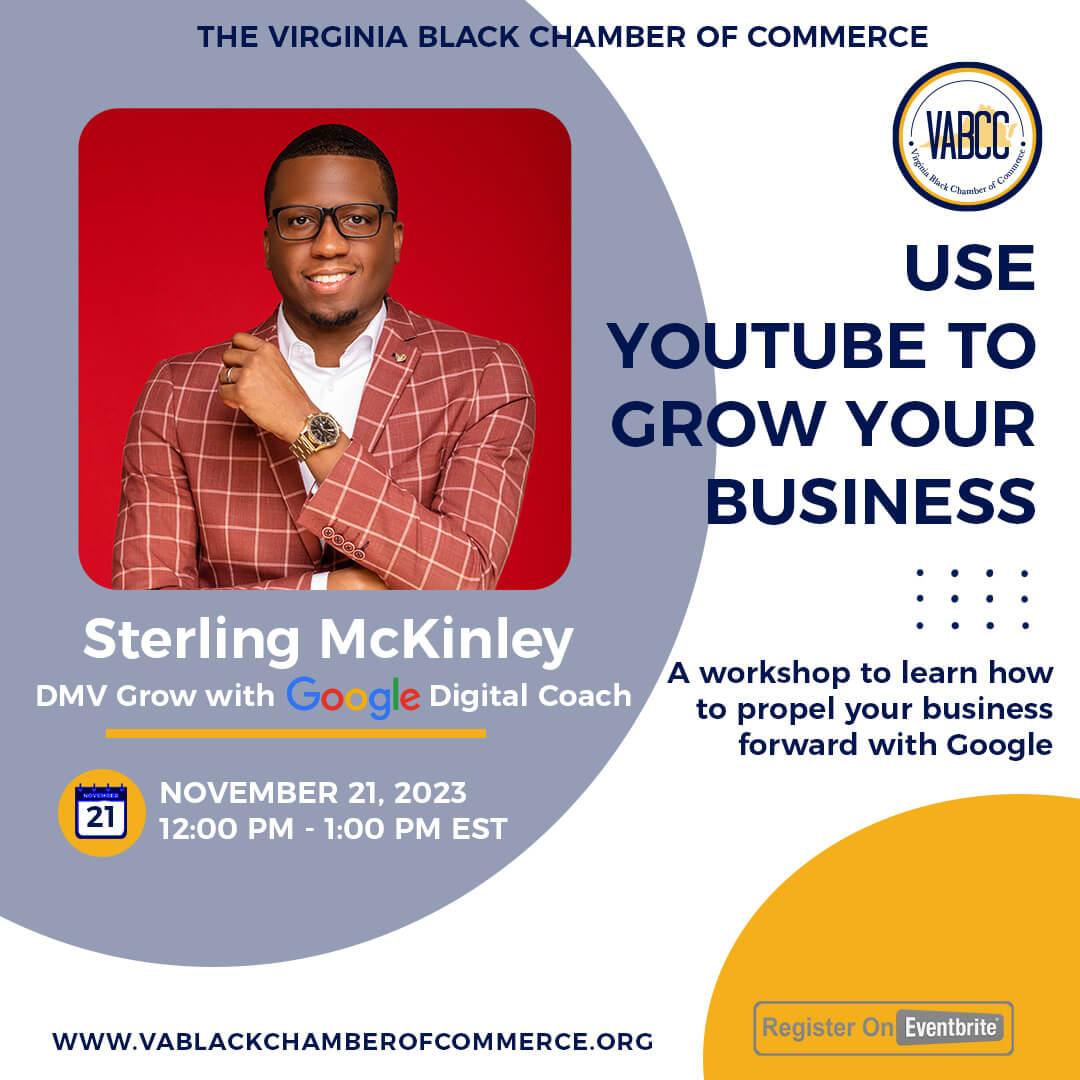 Use YouTube To Grow Your Business
Join our workshop to learn how Google can help your business get discovered on YouTube. 
Learn how to use YouTube and the power of video to promote your business or brand.
In this workshop we will cover:
How to create a YouTube channel
Adding videos and organize your channel
How to promote your business with video ads
About the Presenter - Sterling McKinley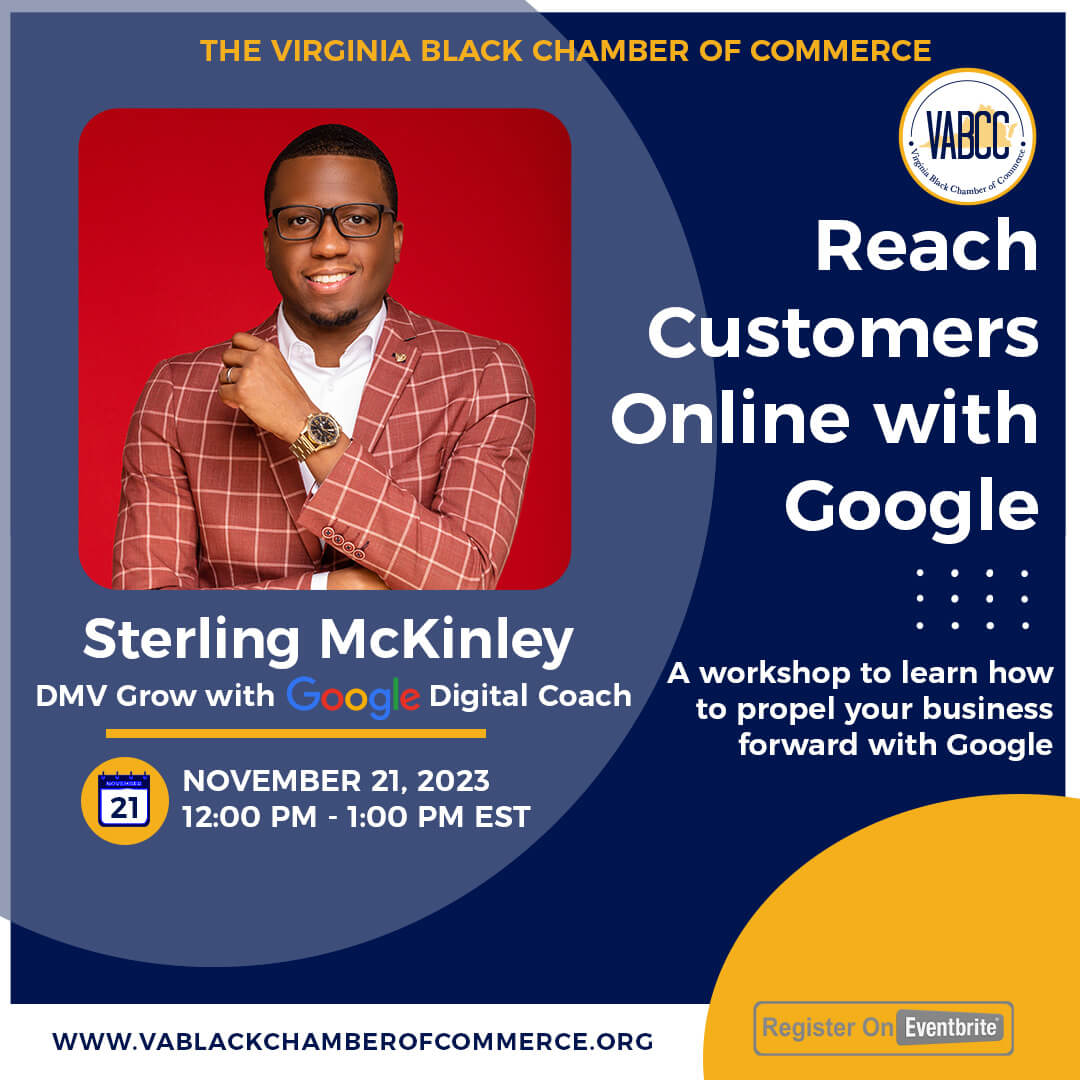 Reach Customers Online with Google
Join our workshop to learn how Google can help your business get discovered online. We will cover the basics of Google Search and how to improve your website's visibility using SEO.
During the session, we'll cover best practices for:
Improving website visibility on all devices in Google's organic search results.
Creating a free Google Business Profile.
Effective advertising using Google.
Trademark basics: What every small business should know now, Not Later
Presented by Mariessa Terrell of the United States Patent and Trademark Office
Join us for a discussion about what all entrepreneurs, small businesses, and start-ups should know about trademarks. We'll discuss what trademarks are, the benefits of federal trademark registration, and the basics of the registration process. We'll also talk about why it's so important for any new business to select a trademark that is both federally registrable and legally protectable. We'll close out the discussion with a question-and-answer session and direct you to free resources from the USPTO.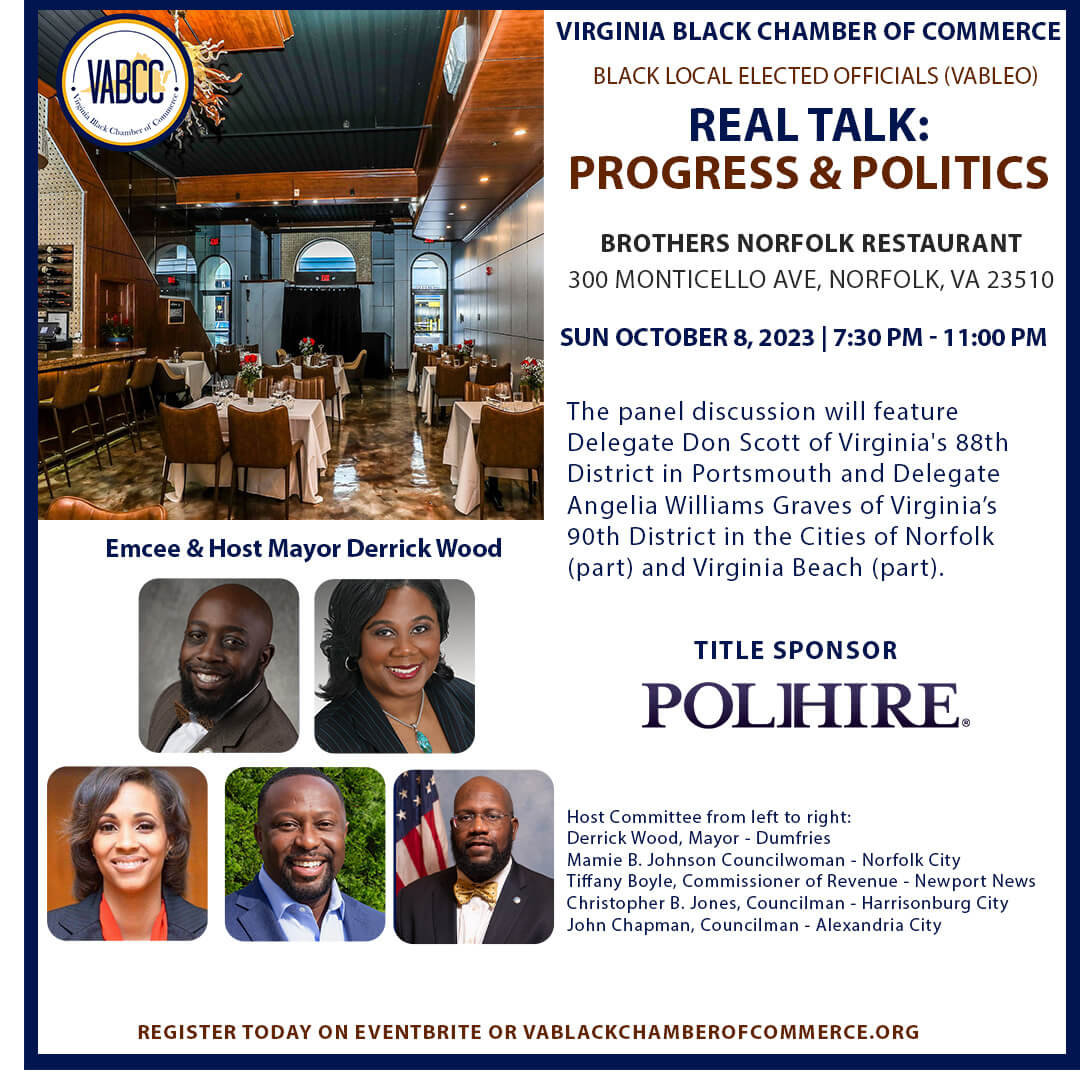 Real Talk: Progress & Politics
Join us for dinner and discussion on "Progress & Politics," an insightful evening by the Virginia Black Chamber of Commerce, Black Local Elected Officials Committee. This unique event offers a chance to engage with some of Virginia's leading Black politicians, who are actively shaping the future of entrepreneurship and small business in their cities.
Our esteemed Host Committee includes Emcee and Host Mayor Derrick Wood of Dumfries, City Councilman John Chapman of Alexandria, Commissioner of Revenue Tiffany Boyle of Newport News, City Councilwoman Mamie B. Johnson of Norfolk, and City Councilman Christopher B. Jones of Harrisonburg.
We will have an influential panel that will discuss their experiences and insights into how politics impacts the growth and economic advancement of businesses in Virginia, particularly within the Black community. They will address key issues affecting Black-owned businesses, explore strategies for fostering entrepreneurial success, and share their visions for economic development in Virginia.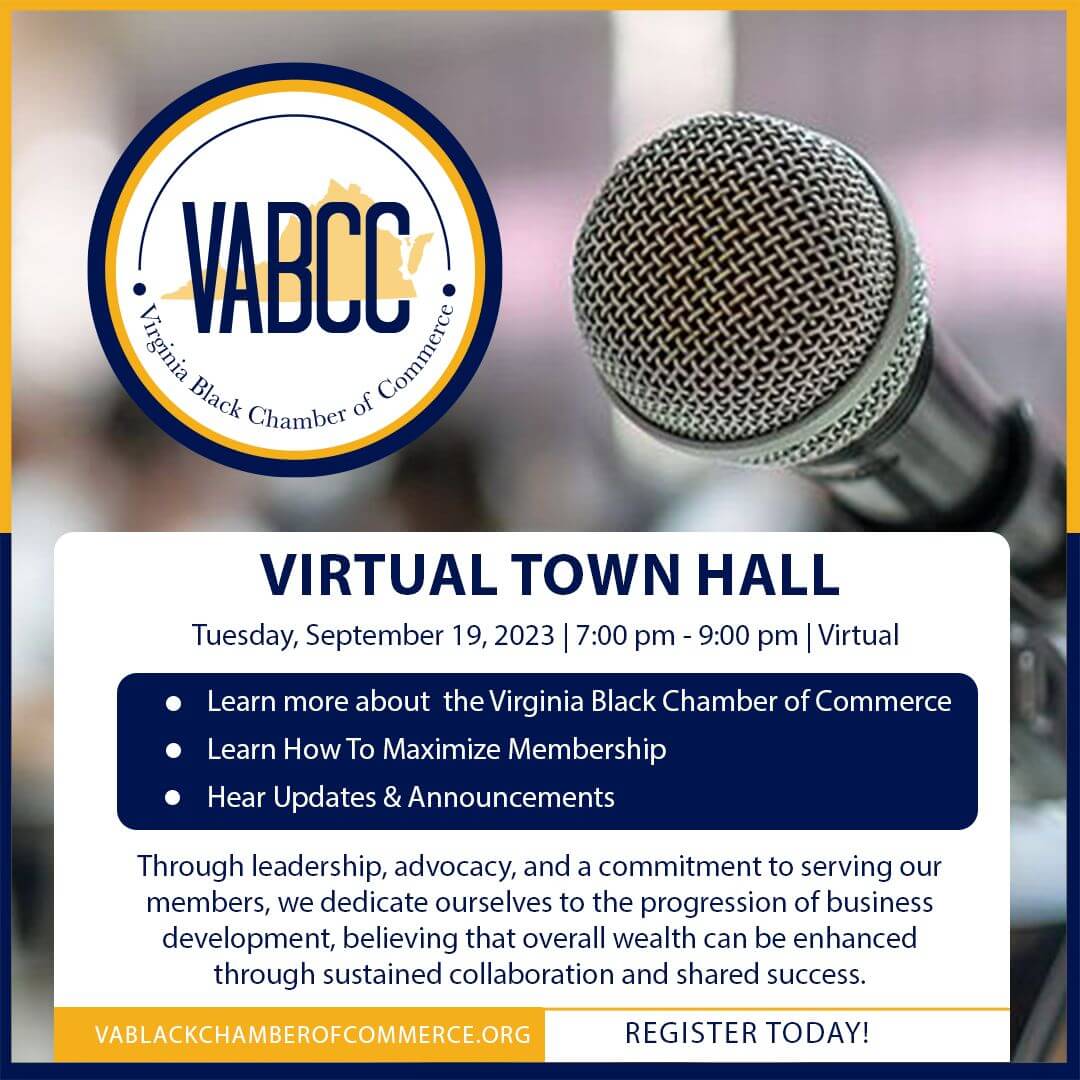 Virginia Black Chamber of Commerce Town Hall: Empowering Black Business
Empowering Black Business & Economic Excellence: A Virginia Black Chamber of Commerce Town Hall
Join us for an exciting online event hosted by the Virginia Black Chamber of Commerce (VABCC)! This town hall is all about empowering Black businesses and promoting economic excellence. We'll have engaging discussions, expert panelists, and an interactive session to help you thrive in business. Take advantage of this incredible opportunity to connect with like-minded entrepreneurs, gain valuable insights, and advance your business. Register now and be a part of this game-changing event!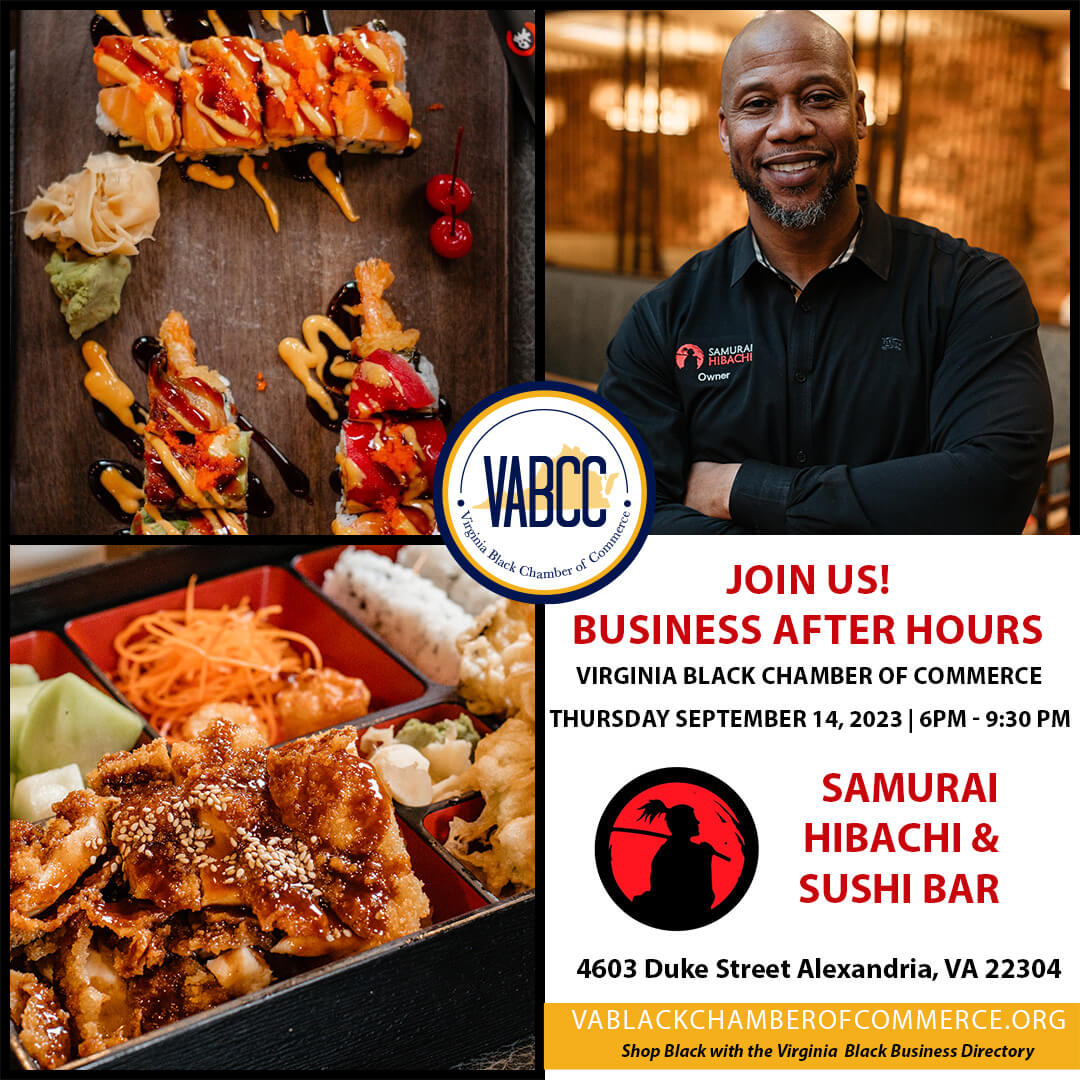 Networking After-Dark with the Virginia Black Chamber of Commerce
We are excited to host a 'Networking After Dark' event at Samurai Hibachi Sushi & Bar - a renowned Black-owned restaurant.
Join Us for an Exclusive Networking Event at Samurai Hibachi Sushi & Bar, a Proud Member of the Virginia Black Chamber of Commerce!
The Virginia Black Chamber of Commerce is excited to host a 'Networking After Dark' event at Samurai Hibachi Sushi & Bar - a renowned Black-Owned establishment that proudly contributes to the thriving black business community in Virginia.
This is an incredible opportunity to network with like-minded professionals, enjoy delicious cuisine, and support a Black-Owned business. So why wait? Reserve your seat today and gear up for an unforgettable night of networking with the Virginia Black Chamber of Commerce.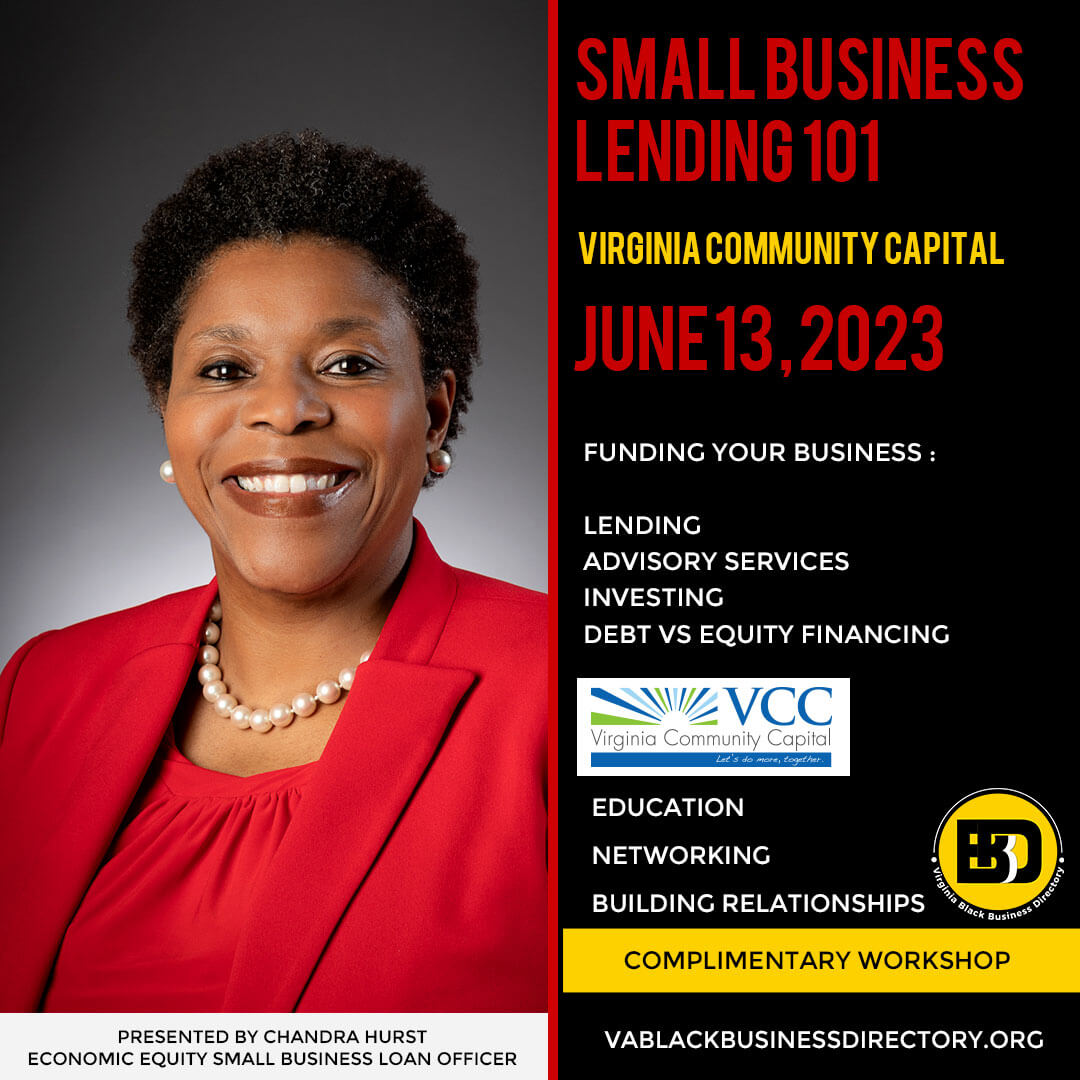 Small Business Lending 101
Providing small business owners who are women and/or Black, Indigenous, and People of Color (BIPOC), access to capital.
Join us for a discussion and workshop on Small Business Lending with Chandra Hurst, Economic Equity Small Business Loan Officer for Virginia Community Capital.
Chandra is responsible for providing small business owners who are women and/or Black, Indigenous, and People of Color (BIPOC), access to capital and low-cost financing solutions including term loans, owner-occupied real estate loans and refinances, working capital lines of credit, SBA loans, and debt consolidation loans.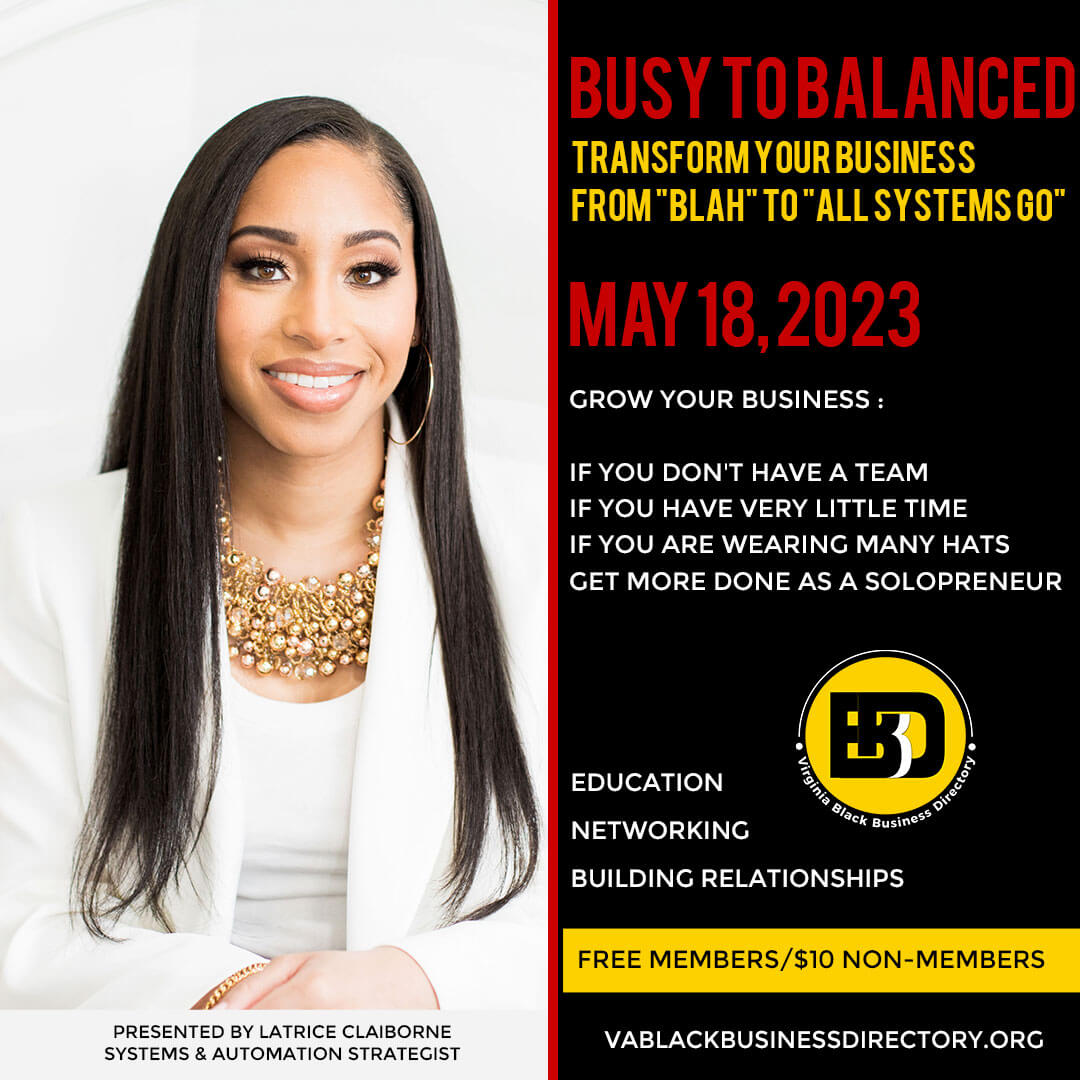 Busy to Balanced: Transform Your Business
Are you a solopreneur looking to grow your business but struggling to find the time or resources to do so?
Are you a solopreneur looking to grow your business, but struggling to find the time or resources to do so? Our upcoming workshop is designed to provide you with the tools and knowledge you need to take your business to the next level.
In this workshop, we will cover a range of topics to help you succeed in growing your business, even if you don't have a team. We'll delve into the details of how to get more done as a solopreneur, how to make the most of your limited time, and how to effectively wear many hats while still achieving your business goals.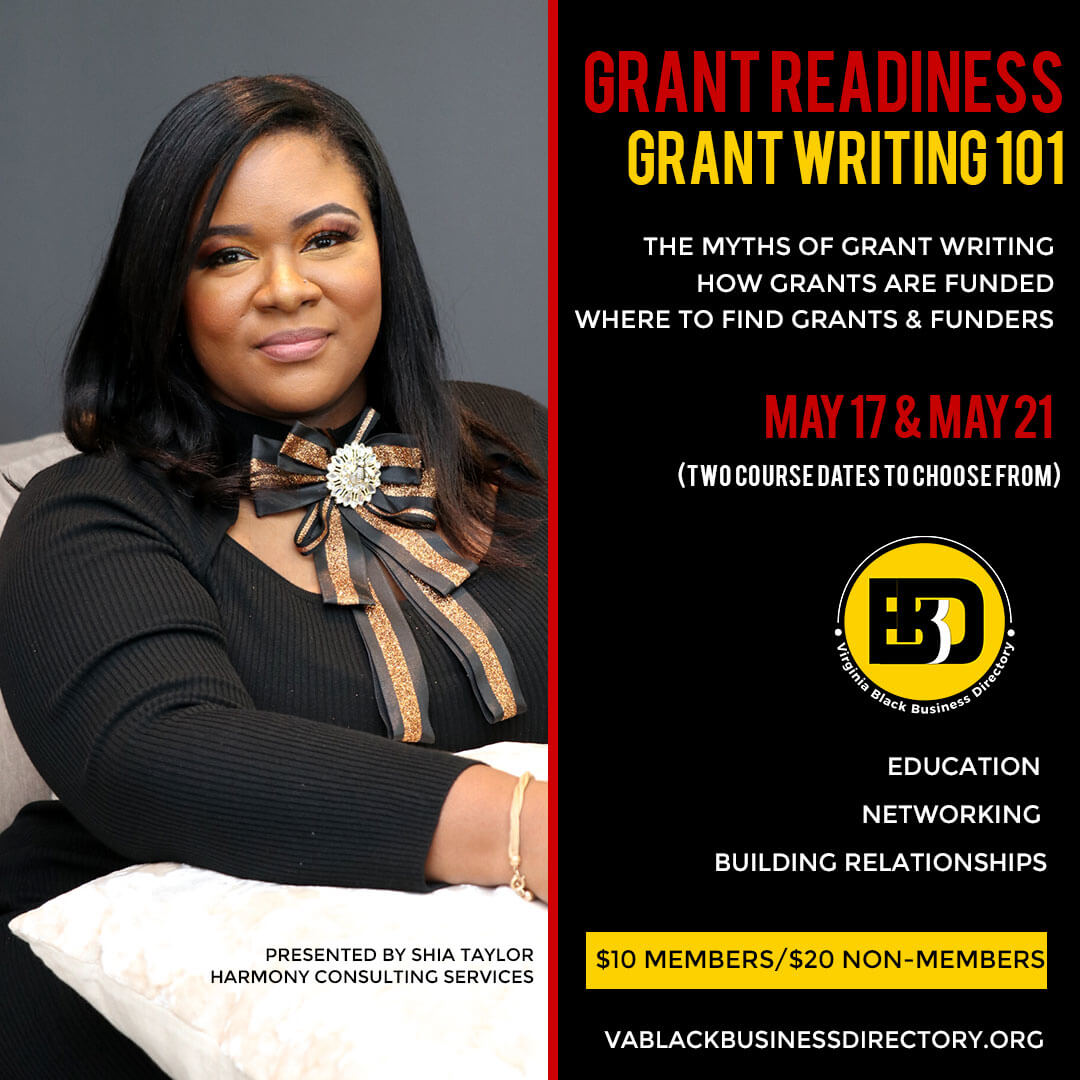 Grant Readiness: Grant Writing 101
During this workshops we will cover the myths of grant writing, how grants are funded, where to find grants & funders, and more!
Join us for an exciting workshop on grant writing! Our Grant Writing 101 Workshop is a two hour event designed to give you the tools and knowledge you need to succeed in grant writing. In this workshop, you will learn how to:
Identify grant opportunities and research potential funders.

Cover the myths of grant writing

Learn how grants are funded
Our expert instructor will guide you through the beginning of the process and provide support to ensure your success. You will also have the opportunity to network with other professionals in your field and gain insights into best practices for grant writing.
Presented by Shia Taylor owner of Harmony Consulting Services.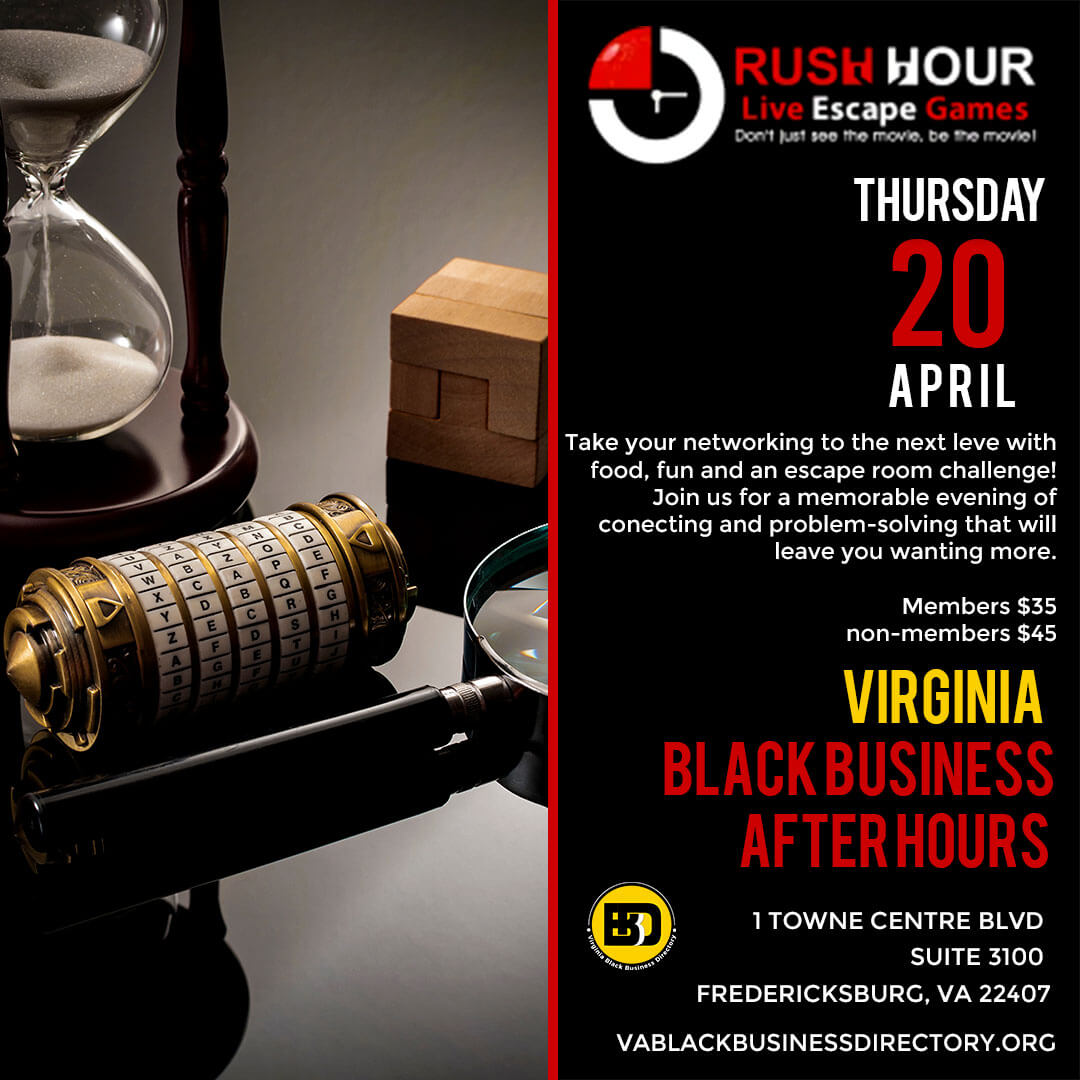 Black Business After Hours - Escape into Networking
Take your networking to the next level with food, fun and an escape room challenge!
We've rented the entire space out, just for YOU! It's a night of building relationships and nothing but fun!
Take your networking to the next level with food, fun and an escape room challenge! Join us for a memorable evening of connecting and problem-solving that will leave you wanting more.
Looking for an unforgettable experience in Fredericksburg? At Rush Hour Live Escape Games you don't just see the movie – you can BE the movie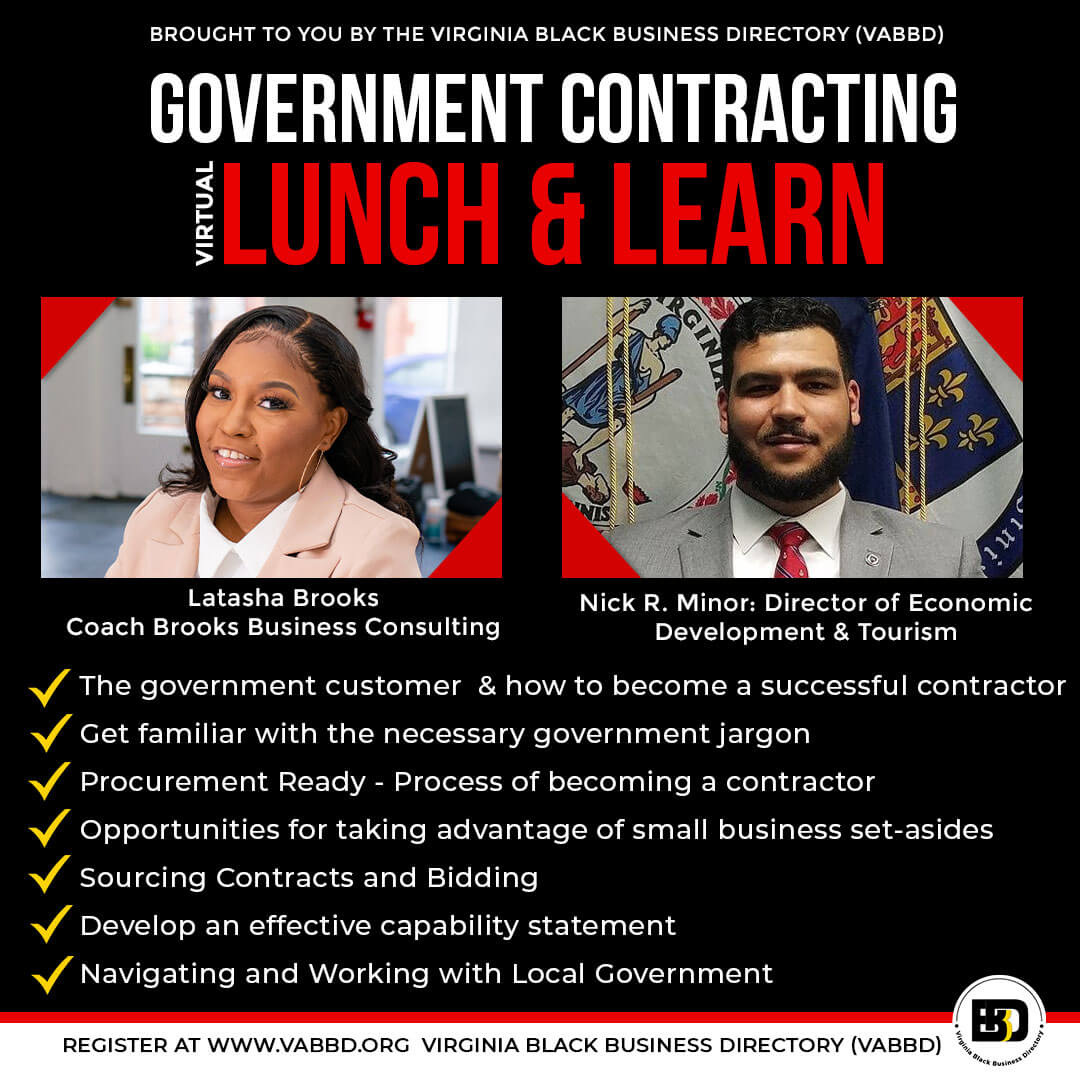 Government Contracting Virtual Lunch & Learn
Equip yourself with the knowhow needed for sourcing contracts and bidding on projects; take advantage of specialized training opportunities.
Becoming a successful government contractor can be an intimidating process; however, with the right know-how you will find great opportunities! Acquainting yourself with procurement terminology is key to success. Also important are small business set-asides for potential contract awards and effective capability statements that showcase your qualifications. It's also beneficial to understand local governmental requirements when navigating through projects - this way you're prepared before bidding on contracts!
This workshop Is brought to you by the Virginia Black Business Directory and presented by Latasha Brooks, Coach Brooks Business Consulting and Nick R. Minor Director of Economic Development & Tourism In King George.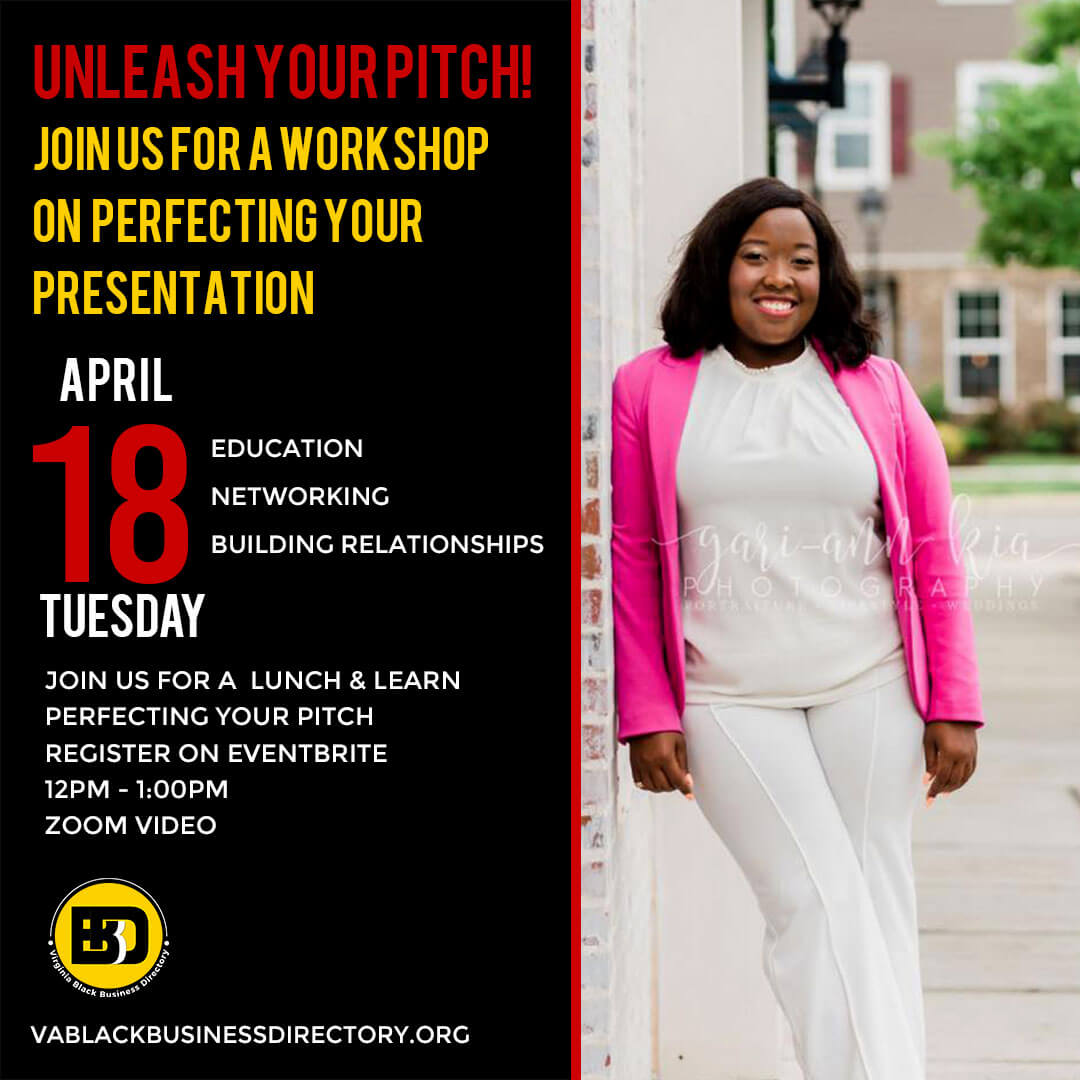 Lunch & Learn: Unleash Your Pitch!
Craft an elevator pitch that compels your listener to take action. In this workshop, we take participants through a simple yet powerful three-step elevator pitch formula.
This method engages listeners by focusing on alleviating their problems, as opposed to simply offering a verbal CV that will bore them to tears.
What can you expect to learn?
Walk away with resources and insights garnered from facilitators who are passionate about finding ways to improve your customer communications.
Workshop faciliatator
Taylor A. Mason MBA
Edify Consulting Founder & CEO
Phone: (706)627-5819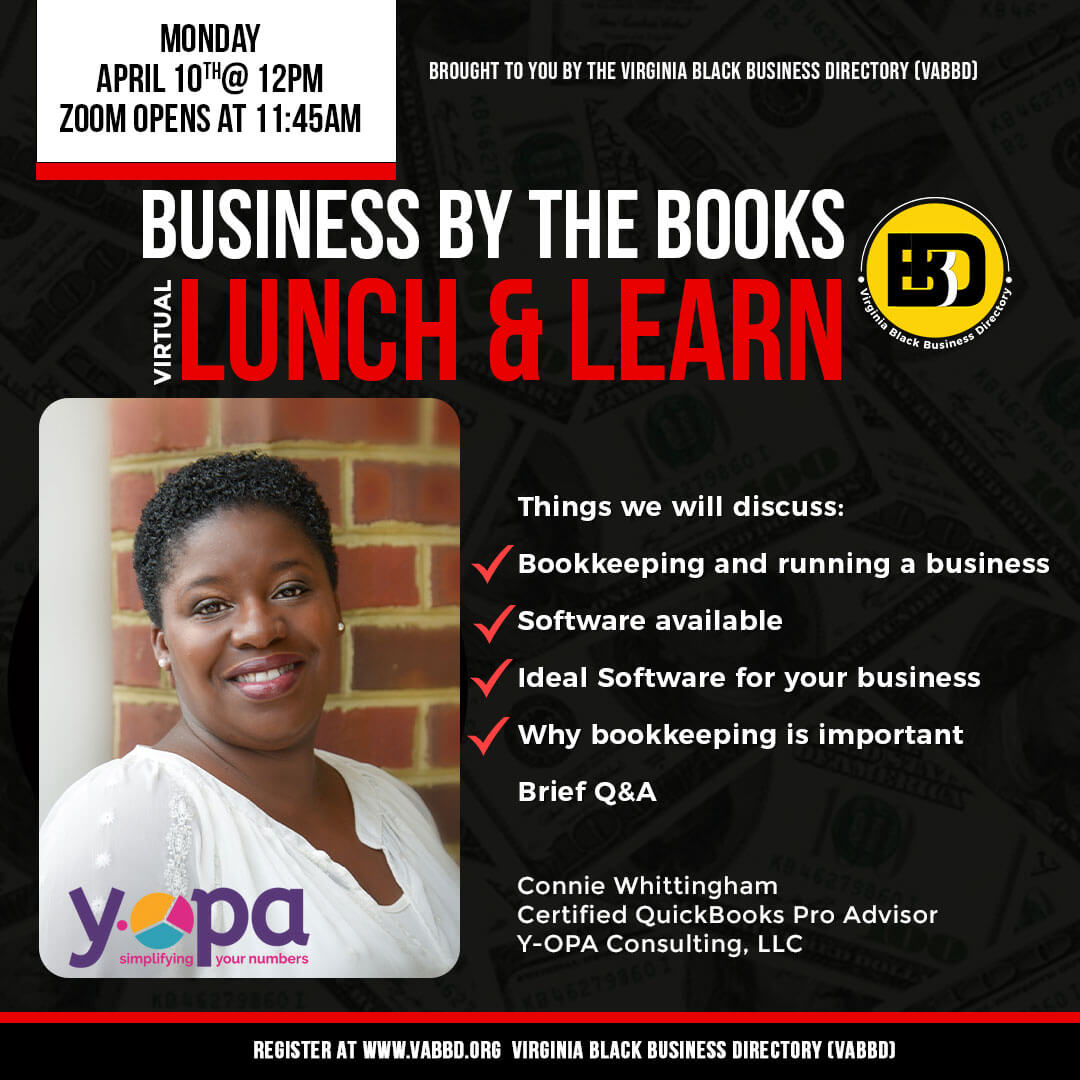 What does every business owner need to know about bookkeeping, software and why it's important?
Things we discussed:
Bookkeeping and running a business
Software available
Ideal Software for your business
Why bookkeeping is important
Brief Q&A
Power Point presentation with audience participation
Presented by Connie Whittingham
Certified QuickBooks Pro AdvisorY-OPA Consulting, LLC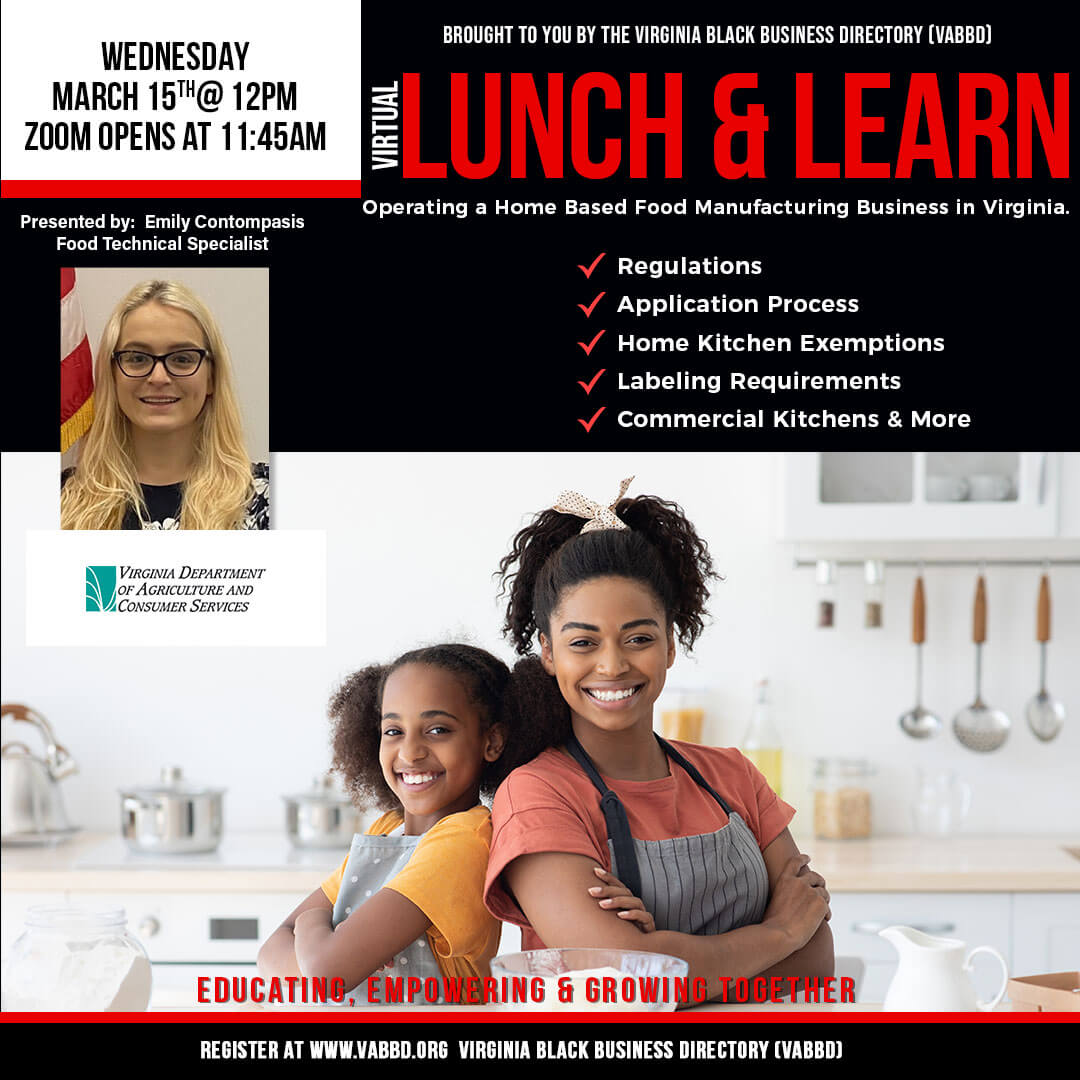 Lunch & Learn: Amplifying Your Home Based Food Service Business
We Discovered the Essentials for Elevating Your Business: Regulations, Applications, Exemptions, Labeling Requirements and More!
Our Special Guest Was Emily, VDACS Food Technical Specialist for the Central Region. She Had All the Advice Needed to Take Your Culinary Dreams up a Notch - From Inspections to Application Processes, Home Kitchen Exemptions and Labeling Requirements.
Emily Shared an Informative Presentation on Operating a Home-based Food Manufacturing Business in Virginia. Although Intended for Home-based Processors, Much of the Information Is Also Relevant for Commercial Kitchens and Stand-Alone Manufacturers. Don't Miss Out on this Opportunity to Join Us - Secure Your Spot Today!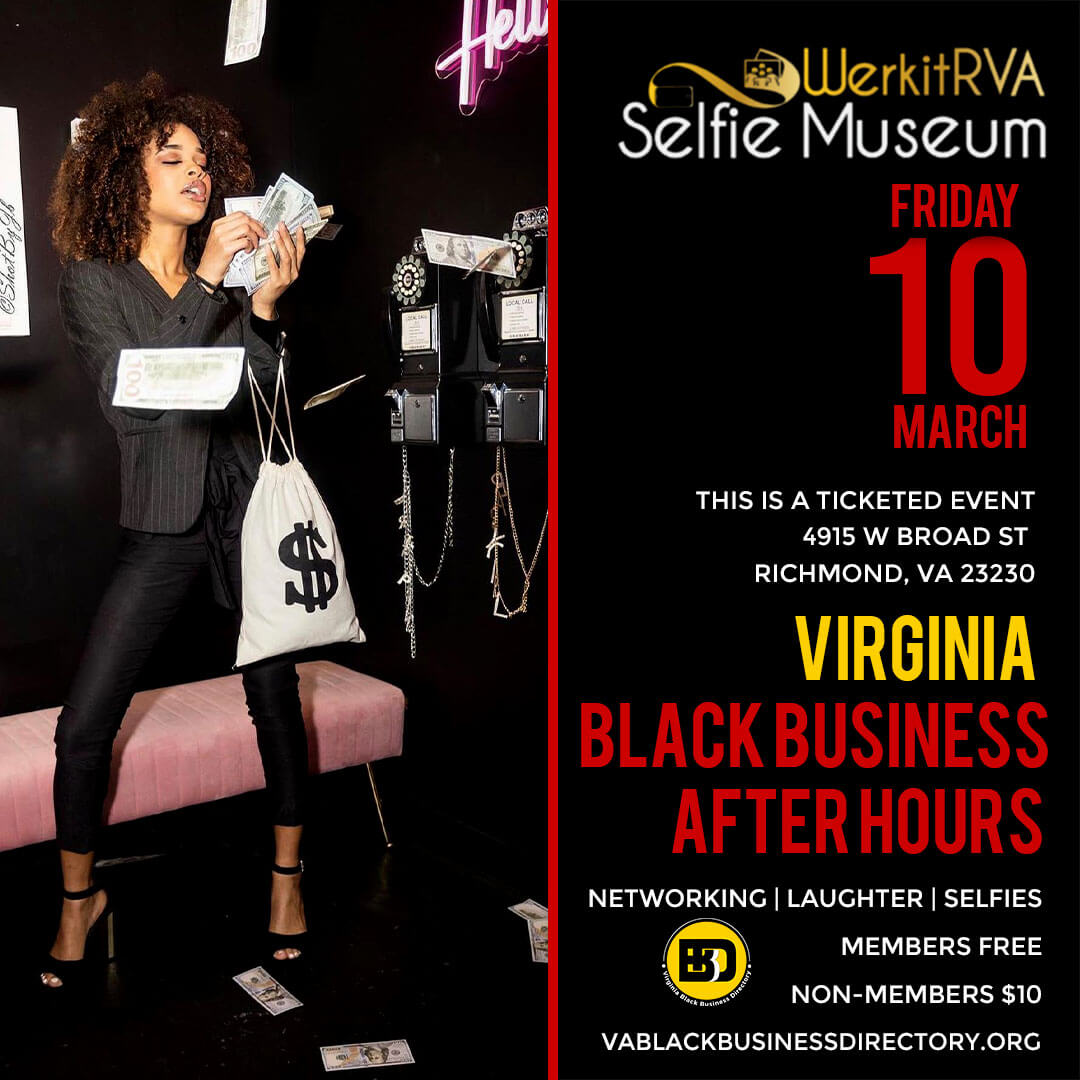 Building Meaningful Relationships
The Importance of Small Business Networking Was Clear: Don't Miss Out on Unique Opportunities to Create Lasting Connections!
We Got Connected With the Virginia Black Business Directory for Networking Opportunities and Created Meaningful Relationships! We Captured Memories at the Selfie Museum, Allowing Us to Snap Fun Pics While Engaging in Great Conversations.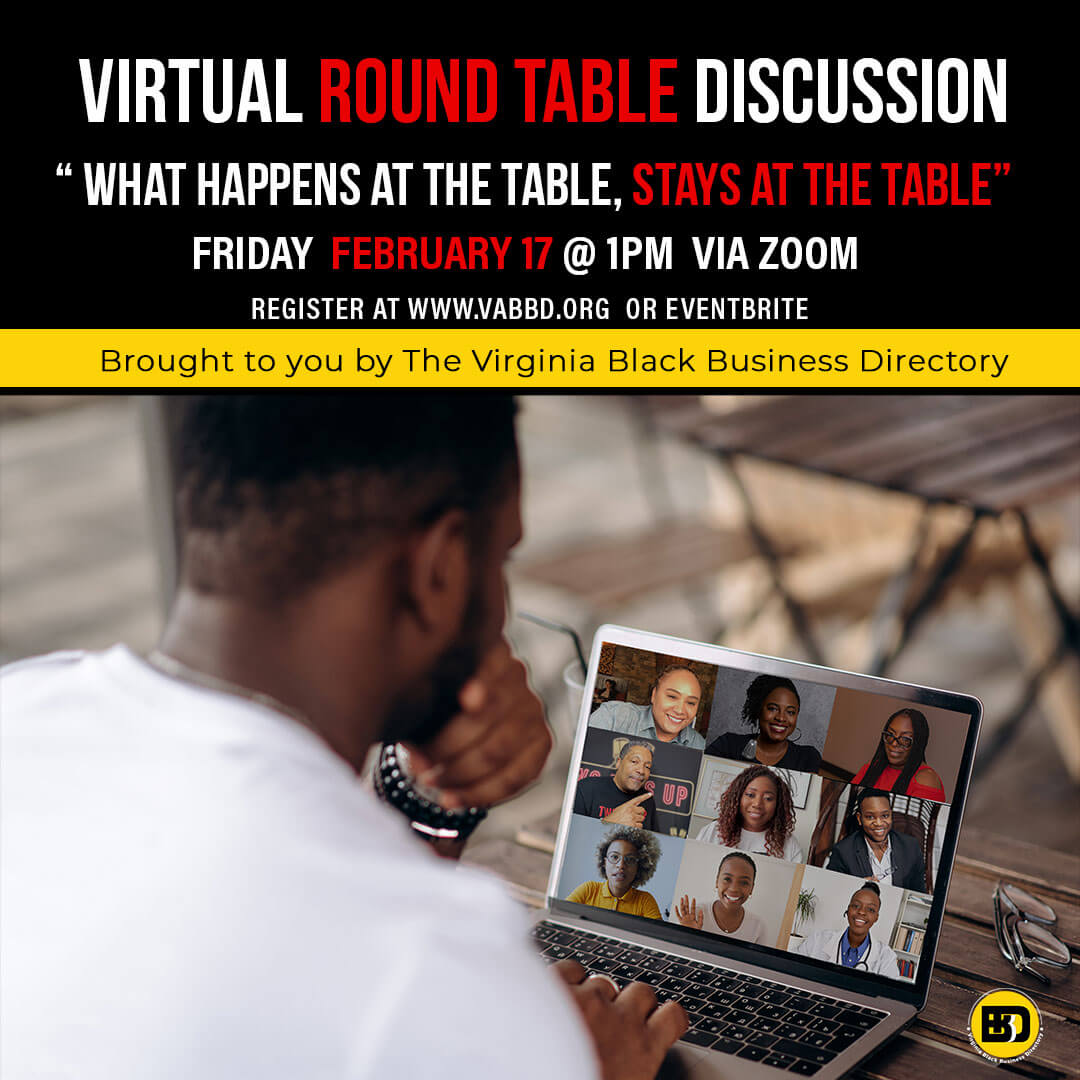 We Joined Together For Our Friday Afternoon Tea Series to Discuss the Ups and Downs of Black Entrepreneurship. It Was an Exclusive Conversation, Just for VABBD Members. We Acknowledged That Black Businesses Strengthen Local Economies, Generate Job Opportunities, and Help Close the Racial Wealth Gap - But Also Acknowledged the Challenges of Running a Business. We Shared Our Experiences to Uplift and Support One Another - What Happened at the Table Stays at the Table!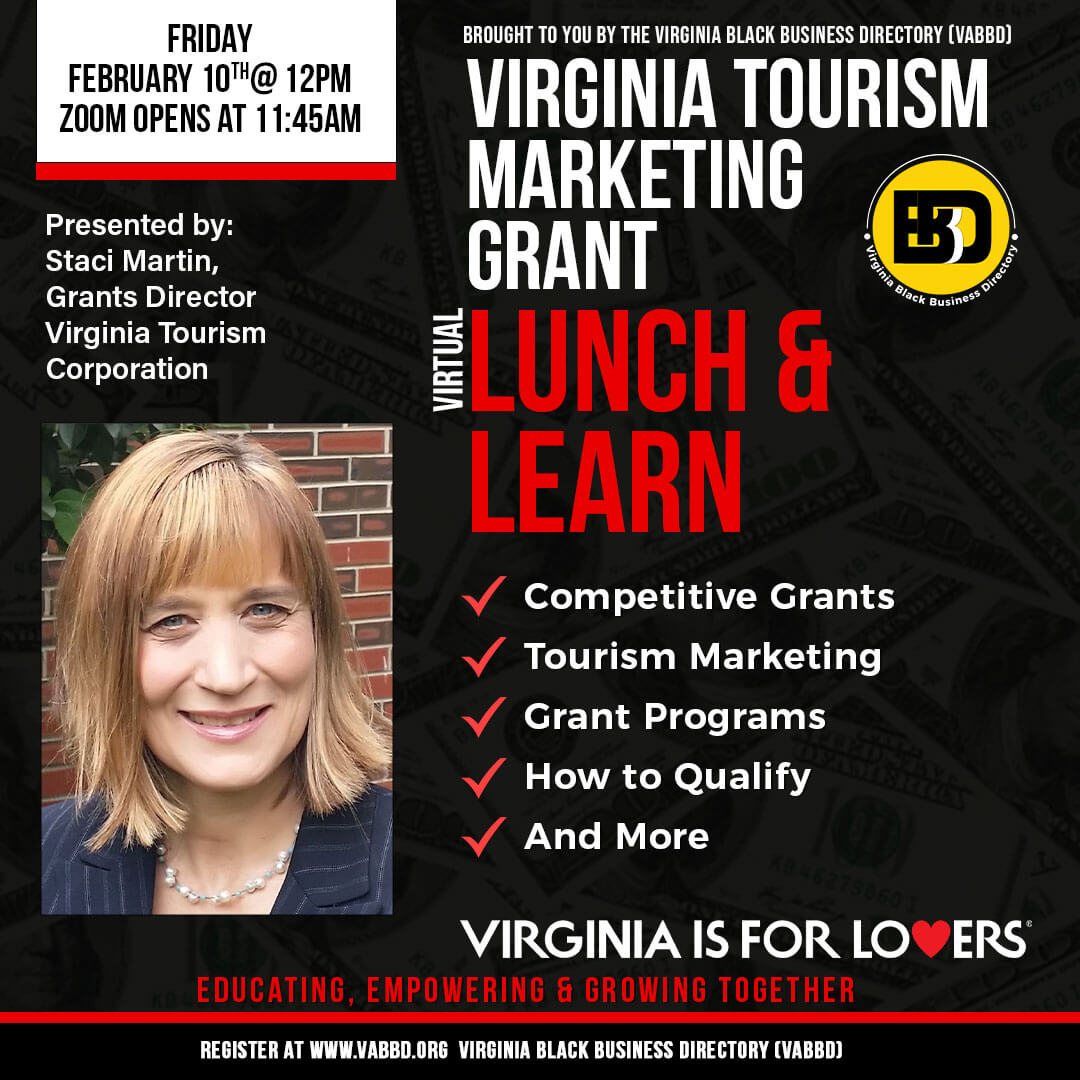 Lunch & Learn: Virginia Tourism Marketing Grant
Partnerships Maximizing Virginia's Tourist Potential Are Essential.
If You Are a Tourism-Oriented Business, You Might Have Qualified for a Virginia Tourism Corporation Marketing Grant.
These Competitive Grants Could Help Reach New Target Markets. We Joined Together for an Overview on Tourism Marketing and the Grant Programs That Were Open Until February 28, 2023. Presented by Staci Martin, the Partnership Marketing Grants Manager at Virginia Tourism Corporation and Former Senior Destination Development Specialist in the Coastal Region, Focused on Entrepreneurial Development, Marketing, and Partnerships; She Worked With Localities, Businesses, DMOs, and Non-Governmental Organizations on Strategies to Diversify Revenue and Jumpstart the Tourism Economy Through Their VTC Grant Programs.
The Art of Code Switching
This Conversation Also Included Perspectives on How Code Switching is Used in the Black Business Community.
We Joined Together to Have an Open Discussion About the Art of Code Switching. We Explored the Reasons Why People Code Switch; From Shifting or Manipulating Behaviors to Appealing to a Different Crowd or Audience, to Professionalism and Adapting Properly to the Current Situation.
Lunch & Learn: SWaM Certification
This was a Vehicle to Promote Economic Growth of Virginia's Businesses. Becoming SWaM Certified Was Just the First Step in Doing Business With the Commonwealth.
We Encouraged Small Business Owners Who Wanted to Participate in Virginia's Specialized Procurement and Contracting Opportunities to Become SWaM Certified. This Workshop Covered: The SWaM Certification Process, Required Documents Needed to Apply, How to Use the Certification to Do Business With the Commonwealth, and an Introduction to eVA, Virginia's Online Procurement Portal.
Ramain Gohar, Business Service Manager at Virginia SBSD Presented; He Specializes in Small Business Consulting and Helping Clients For Five Years Prior Joining State of Virginia, Where He Had Been a Business Consultant with Arizona and New Mexico Small Business Development Center.
Vision Board Workshop: New Year, New Intentions
A Brunch & Vision Board Workshop that Included a Brunch Buffet, Unlimited Mimosas, Door Prizes, and Networking.
Shondella Murray Presented the Workshop 'New Year, New Intention', a Guide on How to Set an Intention for 2023 Instead of Resolutions. Participants Engaged in Self-Reflection and Word of Intention Exercises to Realize What They Had Accomplished, the Lessons Learned from Navigating Challenges, and How to Use All This to Move Forward into a Better Year.
Their Special 'Word of Intention' Inspired Them To Become Their Best Selves or Remind Them of What's Most Important. Participants Then Created an 'Intentional Vision Board' That Brought the WORD to Life Visually and Reminded Them Every Day of Their Intention.
Meaningful Conversations About Stuff that Matters to the Community in a #NoJudgementZone Full of Goal-Getters
A Step-by-Step Instruction on Building a Life-Changing Vision Board.
Lunch & Learn: Trademarking Your Brand
Topics Covered Included What the Process of Trademarking Was, How Much It Costed To Trademark, and What It Protected.
We Presented a Webinar and Q&A to Discuss the Benefits of Trademarking. Jazmin Mullen-Allen, Esq., Founding Member and Principal Attorney at JMA LAW, PLC Led the Discussion; Learn More About Her at www.jmalaw.org.
Attendees Enjoyed an Amazing Lunch & Learn Session, with a Recorded Copy Being Sent to Registered Participants Afterwards.